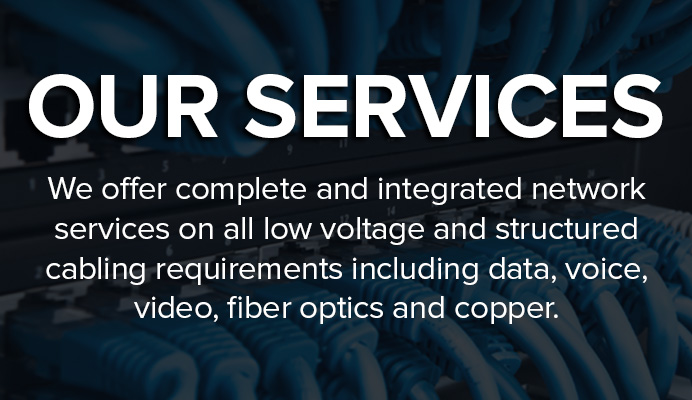 ---
---

Physical Installation and Maintenance Services
We use trained and certified installers to ensure that our physical installation and maintenance services will meet or exceed the industry recommended installation practices. Using our install team is the best way for you to ensure that your unique needs are fulfilled as designed and required. We accomplished this by harnessing our specific skills, training, qualities and expertise to perform the installation in such a manor that you not only realize all the benefits designed into the solution, but also to ensure that the installation meet's or exceeds your unique needs, as well as all required installation practices and guidelines.
---

Consulting
We represent our customers as an extension of their internal Information Technology Support. This begins with complete understanding of your situation, objectives, and constraints as it pertains to communications. We then ensure you receive the communications services, products and support that 'best fits' you're unique needs and ensure a standards compliant install.
---

Commissioning
We provide commissioning services on any low voltage system to ensure the successful operation of that system and that the installation of the low voltage cabling was done professionally and in accordance with known and recommended practices.
---

Converged Building Systems

We can orchestrate the convergence of your various building systems into a standard connectivity methodology. This does not only include your "voice and data" systems but also; security and surveillance and video.
---